IBI Scoreboard for May 22, 2017
Explaining Stats: Wins Above Replacement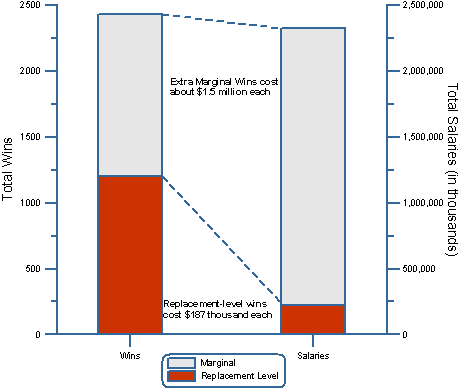 WAR stands for Wins Above Replacement, and replaced VORP, value over replacement player, as the go to stat for trying to figure out the overall value of a player. It is simply the number of wins a player should help his team win in comparison to what a AAA player would do if called up in place of them. The idea being that a AAA team in the majors would be historically bad winning less than 40 games.

The stat combines all of the aspects of a player including defense which is typically not a part of most stats. It also allows for the comparison of pitchers and hitters to see the value they mean to a team. On top of this it is a rather easy stat to read.

If there is some confusion though it's the idea that a positive number means a player is doing well. The average major league player would have a value of 2.0, so positive isn't always good and negative is extremely bad. Last year's highest player was Matt Kemp at a value of 10. The highest Indian was Justin Masterson with a value of 4.1. This stat is a great way to look at the overall value a player brings to their team and for the comparison of all players.

You would think I am insane for saying that Casey Kotchman will have a bigger impact on his team next year than Prince Fielder. Yet this stat allows you to see a bigger picture, Prince Fielder's WAR was 5.2 and he was signed to replace Victor Martinez whose WAR was 3.1. Casey Kotchman's WAR last year was 2.9, while the player he is replacing Matt LaPorta had a WAR of 0.2. In the end, Fielder is a net gain of 2.1 wins while Kotchman is a net gain of 2.7 wins. Sure Fielder on the Indians would be better than Kotchman, but when you look at it it is what the addition does for a specific team. Each team signed a first baseman, yet the Indians are expected to get over half a win more. For all these stats I used the baseball reference numbers for WAR.

So why is this not the stat in all of baseball? It's easy to understand and allows for straight forward comparisons between all players except relievers who tend to post much lower values. The problem is that it is not standardized. Fangraphs and Baseball Reference are the main sources for the stat and each have a different way to devise a players' value as they end up with similar scores most of the time but not always. So if you ever see fWAR it stands for Fangraph's version and rWAR stands for Baseball Reference's version. I tend to use rWAR because I have been using Baseball Reference for so long.

So yes, it does have its problems but there is no debating its value. If you follow any baseball people, most comments on a newly signed player contain their WAR because how simple and inclusive it is. Given time it will be standardized, and one of the current ways will go the way of VORP. Even not standardized it is really just a plain way to show value, to compare and say this player's full package is an upgrade over this player. The future of stats is now and it's WAR, a stat so simple that anyone can understand and use.

For my next article in this series I want to let it be decided by the people who read and follow this series. Post what you want in the comments section and I will spend the next few columns focusing on those stats.

follow me on twitter at jeffipi
Follow Jeff on Twitter @jeffmlbdraft, or email him at jellis121@yahoo.com
User Comments
No comments currently. Be the first to comment!